A masquerade ball themed birthday party is a fun and unique way to celebrate your special day. It's a chance to dress up in your fanciest attire, wear a mask, and enjoy a night of mystery and intrigue.
If you're planning a masquerade ball themed birthday party, here are a few ideas to help you get started:
Invitations
Set the tone for your party with masquerade-inspired invitations. You can find pre-made invitations online or make your own. If you're making your own, use elegant fonts and images of masks and ball gowns. Be sure to include all the important details, such as the date, time, location, and dress code.
When choosing masquerade-inspired invitations, there are a few things you'll want to keep in mind. First, consider the overall style of your party.
If you're going for a more elegant look, you'll want to choose invitations with a classic design. If you're going for a more fun and festive look, you can choose invitations with brighter colors and more playful designs.
You can also personalize your masquerade-inspired invitations by adding your own special touches. For example, you could include a handwritten message to each guest, or you could add a small mask or feather to each invitation.
Decorations
When it comes to decorating for your masquerade ball party, think opulence and glamour. You want to create an atmosphere that is both sophisticated and fun. Here are a few ideas:
Drape the walls in velvet or satin fabric. This will create a luxurious and inviting atmosphere.
Hang chandeliers from the ceiling. Chandeliers are a classic symbol of elegance and sophistication.
Place masks and feathers around the room. This will help to create a festive and masquerade-themed atmosphere.
Use soft lighting to create a romantic and mysterious mood.
You can also use other decorations to create a masquerade ball atmosphere, such as:
Masquerade ball masks: Place masquerade ball masks around the room on tables, chairs, and other surfaces. This will help to set the tone for the party and give guests a chance to try on different masks.
Masquerade ball balloons: Fill the room with masquerade ball balloons in different colors and shapes. This will add a touch of fun and whimsy to the décor.
Masquerade ball streamers: Hang masquerade ball streamers from the ceiling and walls. This is a simple and inexpensive way to add a touch of festivity to the room.
Masquerade ball tableware: Use masquerade ball themed tableware, such as plates, cups, and napkins. This will help to create a cohesive look for your party.
Food and drinks
Champagne and cocktails are a must at any masquerade ball party. You can also serve finger foods, such as mini quiches, sandwiches, and desserts. Here are a few specific food and drink ideas:
Champagne: Champagne is the quintessential masquerade ball drink. Serve it in flutes or coupe glasses. You can also add a garnish to each glass, such as a lemon twist or a few raspberries.
Cocktails: Popular cocktails for masquerade ball parties include the martini, the Cosmopolitan, and the Old Fashioned. You can find recipes online or in cocktail books.
Mini quiches: These bite-sized quiches can be filled with a variety of ingredients, such as spinach and feta cheese, ham and Gruyère cheese, or mushrooms and onions.
Finger sandwiches: Small, delicate sandwiches are perfect for serving at a masquerade ball party. Try using different types of bread, such as white bread, whole wheat bread, or rye bread. You can also fill your sandwiches with a variety of ingredients, such as cucumber and cream cheese, smoked salmon and avocado, or turkey and cranberry sauce.
Mini desserts: These bite-sized desserts are perfect for satisfying your guests' sweet tooth. Try serving mini cupcakes, mini cheesecakes, or mini brownies. You can also decorate your mini desserts with masquerade-themed elements, such as gold sprinkles or feather-shaped chocolate.
Activities
Here are a few ideas for activities that you can have at your masquerade ball party:
Masquerade ball mask decorating: Provide guests with blank masks and decorating supplies, such as glitter, feathers, and paint. Guests can decorate their own masks to wear at the party.
Masquerade ball costume contest: Hold a costume contest for the best masquerade ball costume. You can give out prizes for the winners.
Masquerade ball dance: No masquerade ball party is complete without a dance floor! Hire a DJ or band to play music that your guests will love.You can also create a playlist of your own with masquerade ball-themed songs.
Masquerade ball games: There are many different games that you can play at your masquerade ball party. Here are a few ideas:
Masquerade ball bingo: Create bingo cards with masquerade ball-themed images, such as masks, feathers, and champagne glasses. Guests can try to mark off all of the images on their cards to win a prize.
Masquerade ball scavenger hunt: Create a scavenger hunt list with masquerade ball-themed items, such as masks,feathers, and beads. Guests can search for the items on the list and win a prize for finding them all.
Masquerade ball charades: Write down masquerade ball-themed words and phrases on pieces of paper. Guests can take turns acting out the words and phrases for the other guests to guess.
Masquerade ball photo booth: Set up a photo booth with masquerade ball-themed props, such as masks, feathers, and wands. Guests can take photos to remember the night.
Tips for planning a masquerade ball themed birthday party
Here are a few additional tips for planning a masquerade ball themed birthday party:
Set a budget. Before you start planning, set a budget for your party. This will help you stay on track and avoid overspending.
Send out invitations early. Give your guests plenty of time to RSVP and find masquerade ball costumes.
Have a backup plan. In case of bad weather, have a backup plan for your party. This could be moving the party indoors or having a different activity planned.
Enjoy yourself! The most important thing is to have fun and enjoy your party. Relax and let your guests have a good time.
Conclusion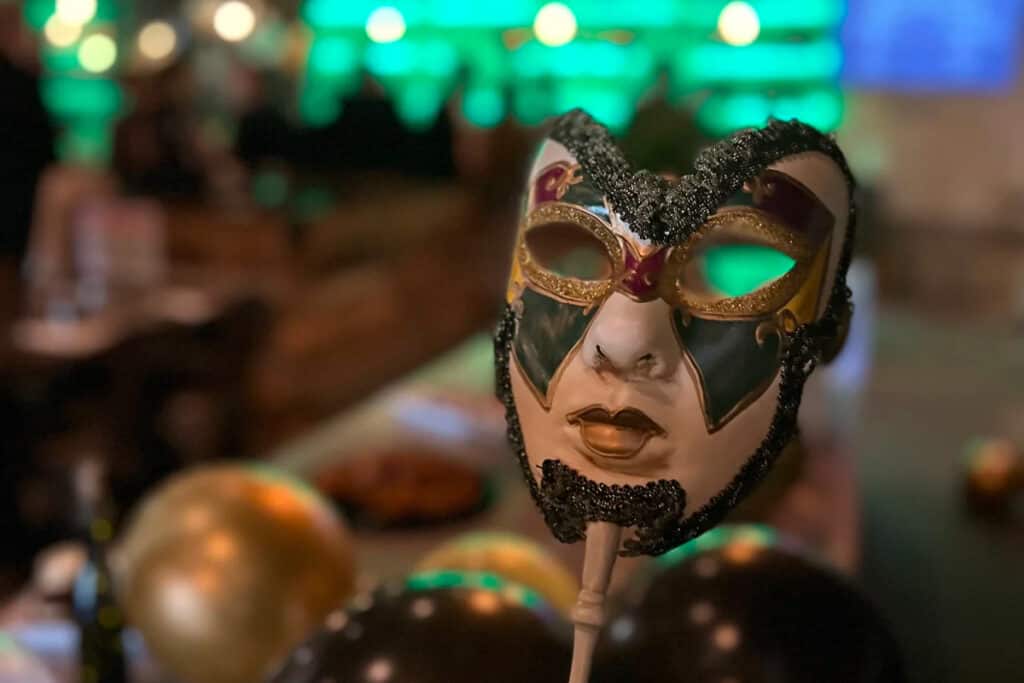 With a little planning, you can throw a masquerade ball themed birthday party that your guests will never forget. Just remember to keep the focus on elegance, sophistication, and fun.