Superheroes have always been a popular theme for children's birthday parties. This is likely due to the fact that superheroes embody many of the qualities that children admire, such as strength, bravery, and a sense of justice.
Marvel superheroes, in particular, have captured the imaginations of children for generations with their iconic characters and thrilling storylines. As a result, Marvel-themed birthday parties are becoming increasingly popular as parents seek to create a truly memorable and exciting experience for their children.
Decorations
The first step to creating a truly Marvel-themed birthday party is transforming your party venue into the Avengers' headquarters. There are many ways to decorate your space, so you can find a style that perfectly matches the theme of your party.
To truly immerse guests in the Marvel universe, it is essential to transform the party venue into the Avengers' headquarters.
This can be achieved through a variety of decorative elements, such as hanging banners with images of iconic Marvel landmarks, creating backdrops that resemble Avengers Tower, and placing superhero masks and props throughout the space.
The goal is to create a visually stunning and engaging environment that captures the essence of the Marvel world.
Avengers Tower Backdrop
One effective way to transform the party venue is by creating a dramatic Avengers Tower backdrop. This can be done by hanging a large banner with a high-quality image of Avengers Tower.
Alternatively, if artistic skills are available, the backdrop can be painted or drawn directly onto a large sheet of paper or fabric.
This backdrop will serve as the focal point of the party space and set the stage for an exciting and immersive Marvel-themed celebration.
Superhero Masks
To get guests into the superhero spirit, provide them with superhero masks to wear throughout the party. These masks can be purchased online or at most party stores, and they come in a variety of designs featuring different Marvel characters.
Encouraging guests to wear masks will not only enhance the party's atmosphere but also encourage role-playing and imagination among the children.
Avengers Logo Balloons
Another fun and festive way to decorate the party space is by filling it with balloons emblazoned with the Avengers logo.
These balloons can be easily inflated and hung from the ceiling or scattered around the room. The Avengers logo is instantly recognizable and will add a touch of superhero flair to any setting.
Food and Drinks
No party is complete without food and drinks, and a Marvel-themed party is no exception. There are many different ways to create Marvel-themed snacks and beverages, so you can find options that perfectly match the theme of your party.
Food and drinks play a crucial role in any successful party, and a Marvel-themed party is no exception. By creatively incorporating Marvel elements into the menu, you can create a truly memorable dining experience for your guests. The key is to balance visual appeal with delicious flavors, ensuring that the food and drinks are both fun to look at and enjoyable to consume.
Hulk Smash Cake:
For a truly eye-catching centerpiece, consider creating a Hulk-smash cake. This cake is made with green cake batter and decorated with frosting that resembles Hulk's skin. The cake's vibrant green color and textured frosting will add a touch of superhero excitement to the dessert table.
Sure, here is the continuation of the article:
Iron Man Cupcakes:
To add a touch of sophistication and elegance to the dessert spread, consider topping cupcakes with Iron Man masks made out of fondant or edible paper. These fondant masks can be easily molded into shape and adhered to the cupcakes, creating a visually appealing and recognizable Iron Man-themed treat.
Superhero Punch:
For a refreshing and patriotic beverage option, consider making a batch of superhero punch that is red, white, and blue. This can be achieved by combining red and blue fruit juices or sodas with white sherbet or ice cream.
The punch can be served in a large bowl with a ladle and decorated with superhero-themed props, such as plastic superhero figures or edible superhero logos.
Activities and Games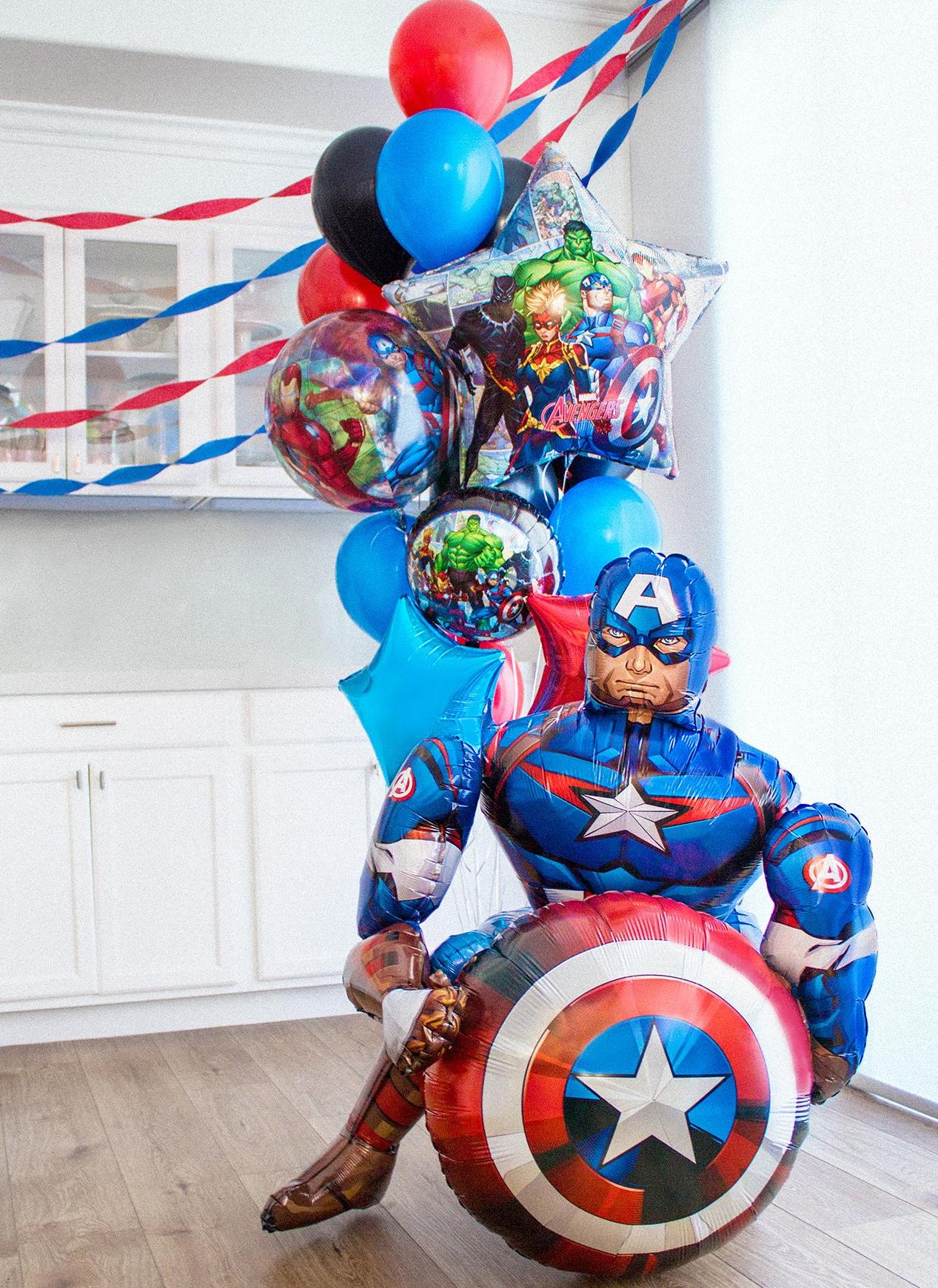 Keeping your guests entertained with fun activities and games is essential for a successful Marvel-themed birthday party. There are many different games and activities that you can choose from, so you can find options that are appropriate for all ages and skill levels.
Engaging guests in fun and interactive activities is vital for ensuring a lively and enjoyable Marvel-themed birthday party.
Superhero Training Academy:
To transform the party into a true superhero training experience, set up a superhero training academy. This academy can include various activities that test the guests' physical and mental abilities, such as obstacle courses, target practice, and superhero-themed trivia.
These activities will not only entertain the guests but also promote teamwork, problem-solving skills, and a sense of accomplishment.
Pin the Tail on the Superhero:
This classic game can be easily adapted to a Marvel theme by replacing the donkey with a picture of a popular Marvel superhero, such as Iron Man, Captain America, or Spider-Man.
The tails can be made out of colorful ribbons or fabric strips and decorated with superhero symbols or emblems. This game is sure to bring laughter and excitement to the party.
Superhero Photo Booth:
Create a fun and interactive photo booth where guests can take turns posing with superhero props. These props can include superhero masks, capes, and weapons.
You can also provide a variety of backdrops, such as a cityscape or a superhero headquarters. This is a great way to capture lasting memories of the party and provide guests with fun souvenirs.
Party Favors
Send your guests home with a small token of your appreciation with Marvel-themed party favors. There are many different ways to create Marvel party favors, so you can find options that perfectly match the theme of your party.
Party favors are a thoughtful gesture that leaves a lasting impression on guests. Marvel-themed party favors can range from simple treats to more elaborate keepsakes. The goal is to provide guests with a memento of the party that they can cherish and use.
Purchase small superhero figurines for your guests to take home. These figurines can be found in a variety of sizes and styles, and they make a fun and affordable party favor. The guests can collect the figurines or display them in their rooms as a reminder of the party.
Fill small bags with Marvel-themed candy, such as gummies, chocolates, and lollipops. These candy bags are a sweet and satisfying treat that your guests will love. The candy bags can be decorated with superhero symbols or logos, and they can be personalized with each guest's name.
Provide your guests with Marvel coloring books and crayons to take home. This is a fun and educational activity that is perfect for all ages. The coloring books can feature popular Marvel characters and scenes, and they can provide hours of entertainment for the guests.
Give your guests Marvel wristbands to wear to remember the party. This is a fun and fashionable way to keep the party going long after the event is over. The wristbands can be made out of silicone or fabric, and they can be customized with the guests' names or favorite Marvel characters.
Additional Tips
Here are some additional tips for planning a Marvel-themed birthday party:
Get your child involved in the planning process.

This will help them to feel more invested in the party and make it even more special for them.

Choose a specific Marvel theme.

This will help you to focus your planning and make it easier to find the right decorations, food, and activities.

Send out invitations early.

This will give your guests plenty of time to RSVP and plan their costumes.

Decorate your party venue in advance.

This will help you to create the perfect atmosphere for your party.

Have plenty of food and drinks on hand.

This will ensure that your guests have everything they need to enjoy the party.

Plan some fun activities and games.

This will keep your guests entertained and engaged throughout the party.

Send your guests home with party favors.

This is a small gesture that will help your guests to remember the party long after it is over.
Conclusion
Planning and throwing a Marvel-themed birthday party can be a fun and rewarding experience. With a little creativity and effort, you can create a party that is both fun and engaging for all of your guests. By following the tips and suggestions in this article, you can throw a Marvel party that your guests will never forget.