Paris, the City of Lights, is a city that has captured the hearts and imaginations of people all over the world. Its rich history, vibrant culture, and iconic landmarks make it a truly magical place. If you're planning a birthday party for a loved one who loves Paris, you're in for a treat!
There are so many creative and charming Paris-themed birthday party ideas that will transport your guests to the heart of France and make their special day unforgettable.
Invitations & Décor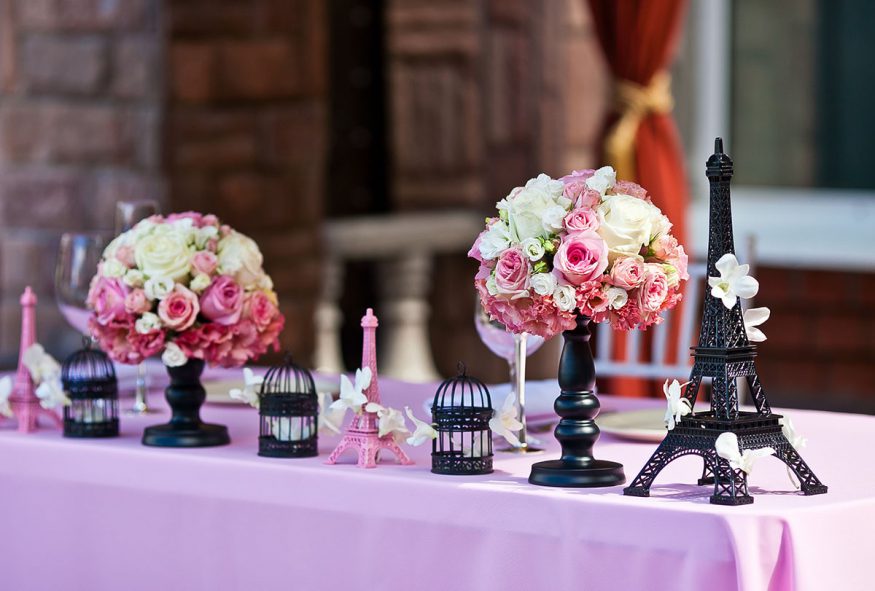 Before the festivities begin, it's important to set the tone for your Parisian-themed birthday party with elegant and inviting invitations.
Consider using a classic design featuring iconic Parisian landmarks such as the Eiffel Tower, the Arc de Triomphe, or the Louvre Museum. You can either create your own invitations or purchase pre-made ones online from a variety of retailers.
When decorating your party venue, consider transforming the space into a Parisian café or a charming French street. Hang strings of fairy lights and paper lanterns to create a warm and inviting ambiance, reminiscent of the romantic atmosphere of Paris at night.
Drape white tablecloths and add a touch of elegance with fresh flowers such as roses, lilies, or daisies. These simple yet elegant touches will instantly transport your guests to the heart of Paris.
Food & Drinks
No Parisian experience is complete without indulging in the city's culinary delights. For your party, prepare a spread of French-inspired treats and beverages that will tantalize the taste buds of your guests.
Start with a selection of pastries, such as croissants, pain au chocolat, and macarons, which are essential staples of any Parisian breakfast or afternoon tea.
For the main course, consider serving croque monsieurs, quiche lorraine, or crêpes, which represent the diverse culinary offerings of Paris. And don't forget to offer a variety of French cheeses to satisfy the cravings of any cheese lover, along with a selection of fine wines to complement the meal.
Activities & Games A Parisian Soirée
To keep your guests entertained and engaged throughout the party, plan some fun and interactive activities inspired by Parisian culture. Set up a photo booth and provide a variety of Parisian props such as berets, scarves, and fake mustaches so guests can capture their own fun and quirky Parisian-themed souvenirs.
For younger guests, organize a treasure hunt with clues hidden around the party venue, leading them on an exciting Parisian adventure.
For a touch of Parisian flair, consider hiring an accordionist or a mime to perform for your guests, adding an element of surprise and delight to the festivities.
Party Favors A Memento of a Parisian Celebration
As the party winds down, send your guests home with a small token of appreciation to commemorate their Parisian adventure.
Some popular party favors include mini Eiffel Towers, which are a recognizable symbol of the city and make a delightful keepsake. You can also opt for postcards of Paris, showcasing the city's iconic landmarks and providing a beautiful reminder of their special day.
Another option is to provide packets of French candies, such as bonbons or caramels, offering a sweet treat to end the celebration on a high note. To personalize the favors, you can add the guest of honor's name or a special message, making it a truly unique and thoughtful gesture.
Additional Tips for a Parisian-Themed Birthday Bash
To ensure a successful and memorable Parisian-themed birthday party, consider these additional tips:
Involve the Guest of Honor in the Planning Process
Make the party even more special by involving the guest of honor in the planning process. This will not only make them feel valued and appreciated, but it will also ensure that the party reflects their personal preferences and interests.
Let them choose their favorite Parisian activities, foods, and decorations, adding a personal touch that will make the celebration even more meaningful.
Personalize the Decorations with Their Name and Age
Personalize the decorations with the guest of honor's name and age to add a unique touch to the party. You can use balloons, banners, or even personalized cake toppers, ensuring that the guest of honor feels celebrated and remembered throughout the event.
Prepare a Playlist of French Music
Set the mood and ambiance for a Parisian celebration by creating a playlist of French music that includes chansons, classical pieces, and modern tunes. The music will add a touch of authenticity and transport your guests to the heart of Paris, creating a memorable and immersive experience.
Encourage Guests to Dress in Parisian Style
Encourage your guests to dress in Parisian style to add to the ambiance and create a fun and engaging atmosphere. Suggest that they wear berets, scarves, striped shirts, or even fake mustaches to embody the iconic Parisian look. This will add a touch of whimsy and
Capture the Memories with Photos and Videos
Capture all the special moments of the party with photos and videos to preserve the memories for years to come. Set up a photo booth with fun props such as Eiffel Tower cutouts, Parisian-themed backdrops, and accessories like berets and scarves.
Encourage guests to take pictures and create their own Parisian-themed photo albums. You can also hire a photographer to document the event, capturing candid moments and group shots that will serve as cherished keepsakes.
Conclusion
By following these tips and incorporating the creative ideas mentioned above, you can throw an unforgettable Parisian-themed birthday party that will transport your guests to the heart of France and make their special day truly magical. Bon anniversaire!